Vada Pav, the brainchild of Ashok Vaidya, is the most favorite snack of Mumbaikars. This yummy fried vada made of spicy mashed potatoes with chutney slathered inside pavs is a go-to snack for the working class.
Here is the list of best vada pav in Mumbai; Ashok Vada Pav, Dhiraj Vada Pav, Aaram Vada Pav, Gajanan Vada Pav, Graduate Vada Pav, Shivaji Vada Pav.
Ashok Vada Pav
Located near Kirit College, this place is often crowded by Mumbaikars, as they serve the best vada pav in Mumbai for over three decades. The vada pav here is so irresistible that it drags celebrities like Madhuri Dixit and Sonu Nigam to this stall.
Dhiraj Vada Pav
This is one of the famous joints for vada pav in Mumbai for some hot, lip-smacking vada pav. Perfectly cooked mashed potatoes stuffed in soft pavs will just melt in your mouth. This stall is also famous for butter dosas.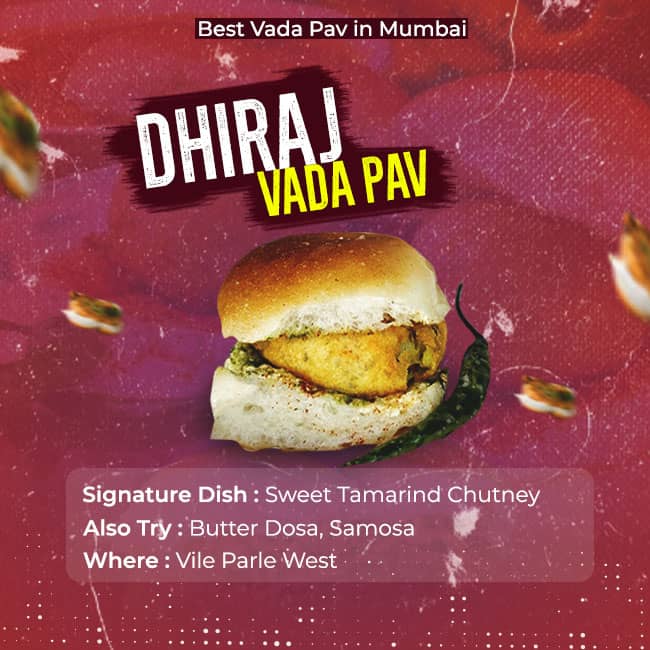 Aaram Vada Pav
Feeding Mumbaikars for more than 70 years, this vada pav stall is opposite Chhatrapati Shivaji Terminus Railway Station. They serve a special garlic chutney with vada pav, which you cannot get anywhere in Mumbai. Though there are no proper seating arrangements here, this place is crowded as they serve you spicy hot vada pav that indulges your cravings.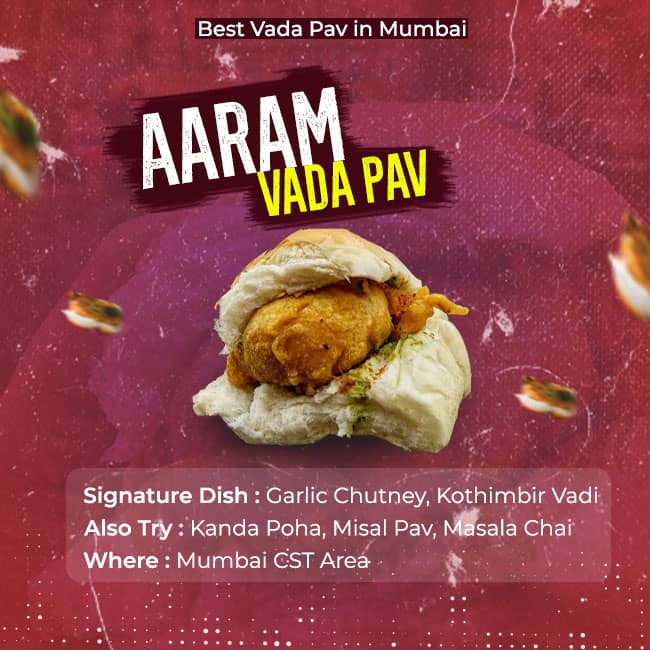 Gajanan Vada Pav
Here is another stall serving delicious Bombay vada pav since 1978; maintaining the good old tradition, they have their own chutney recipe, which will leave you yearning for more. You can also try their lip-smacking pav bhaji, misal pav, dosas, and chaats.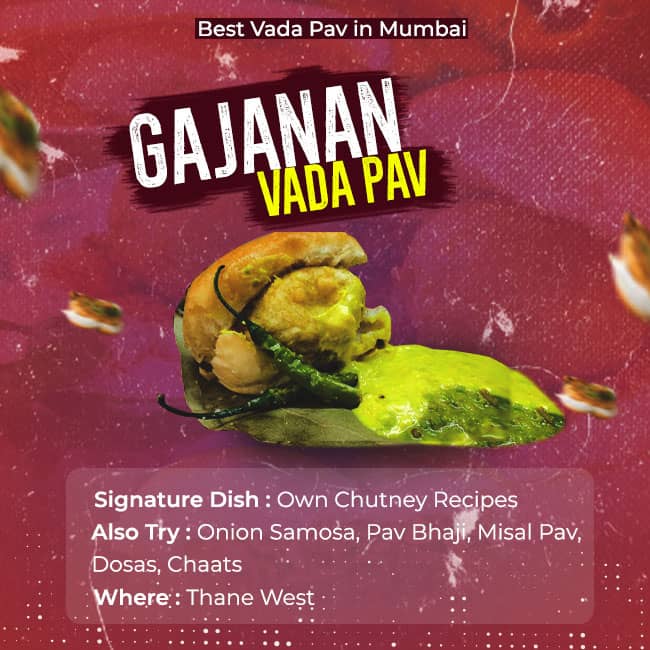 Graduate Vada Pav
The family-run business for the past 20 years; Graduate vada pav has been serving over 2,000 customers every day, with their signature vada pav and some delicious chili, garlic, tamarind, and coconut chutneys. You can also try their samosa and pav bhaji, which are irresistible.
Shivaji Vada Pav
The Nainar family runs this vada pav joint for over 35 years. Shivaji vada pav stall sells around 1000 vada pavs per day by targeting hungry, budget-constrained students. They make varieties of pavs like schezwan and cheese schezwan vada pavs, which sell like hotcakes here. This stall also has other snacks on their menu, but Vada Pav remains a cult dish till date.