Field Hockey is the national game of India.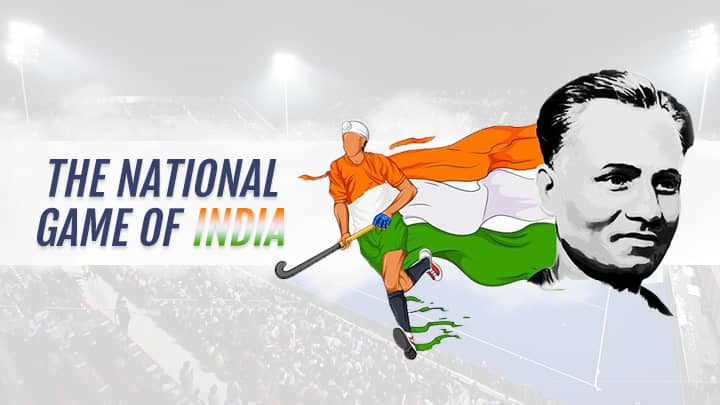 History of Indian Hockey:
It was introduced in India during the British Raj in 1855 and was given the national game status because of its long-standing rich legacy and correlation with pride, which evokes countrymen's hearts.
In 1855, the first hockey club of India was established in Calcutta. Later in 1908, Bengal Hockey Association was formed, which was the first hockey association in India, and in 1925, the Indian Hockey Federation was established.
Indian Hockey Legacy:
Major Dhyan Chand was known as 'the Father of Indian Hockey' as he played a major role in winning 3 Olympic Gold medals for India in the years 1928, 1932, and 1936. He is also acknowledged as 'The Wizard' because of his excellent performance on the field and superb ball control. His birthday is celebrated as 'National Sports Day' (29th August).
The 'Rajiv Gandhi Khel Rathna Award' which is the highest sports award for excellent performance in international level competitions was recently renamed to 'Major Dhyan Chand Khel Ratna Award' on August 6, 2021.
Olympic Hockey Trivia:
Recreating history after 40 years, India finally won an Olympic medal in Tokyo Olympics 2020. Breaking the myths of the society and paving the way to a new era, the Indian Women's Hockey Team won the Bronze medal and brought pride to the nation.
Performance of Indian Hockey Teams in Olympics:
| | |
| --- | --- |
| Year | Medal Won |
| 1928 - Amsterdam Olympics | Gold Medal |
| 1932 - Los Angeles Olympics | Gold Medal |
| 1936 - Berlin Olympics | Gold Medal |
| 1948 - London Olympics | Gold Medal |
| 1952 - Helsinki Olympics | Gold Medal |
| 1956 - Melbourne Olympics | Gold Medal |
| 1960 - Rome Olympics | Silver Medal |
| 1964 - Tokyo Olympics | Gold Medal |
| 1968 - Mexico City Olympics | Bronze Medal |
| 1972 - Munich Olympics | Bronze Medal |
| 1980 - Moscow Olympics | Gold Medal |
| 2020 - Tokyo Olympics | Bronze Medal |